Focus: ESG
ESG – the capital markets' responsibility for sustainable investments
ESG has been established as the standard for sustainable investments. The abbreviation stands for Environmental, Social, and Governance criteria, a set of sustainability-related areas of responsibility for companies.
The constantly growing number of tradable ESG ETFs on Xetra® shows that sustainability factors are growing increasingly important in financial investments. This development is supported by the findings of various studies, showing that ESG concerns are gaining traction among private investors and that institutional investors are increasingly seeking products with an environmental or social focus.
Meanwhile, traditionally important investment aspects such as return and risk remain a priority: ultimately, environmentally and socially responsible management is assumed to result in greater competitiveness in the long term, thus also ensuring more stable returns on investments.
The survey "7 Insights from Asset Owners on the Rise of Sustainable Investing" conducted by Morgan Stanley and published in 2020 shows that 80 per cent of asset owners actively integrate sustainable investments in their portfolios, a significant increase compared to the results of the previous year's study. Among the stated reasons were attractive financial performance as well as increasing regulatory requirements, rendering ESG factors necessary investment prerequisites.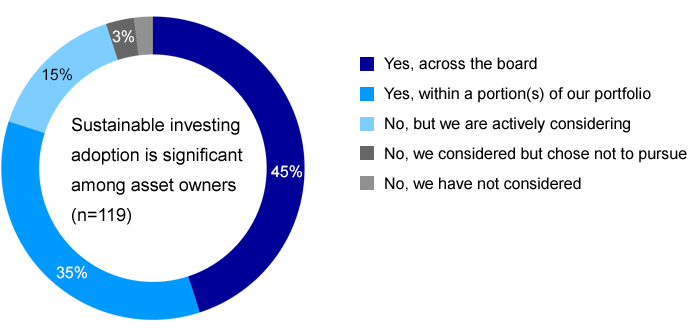 Consulting firm PwC estimates that by 2025, every second euro will be invested in ESG funds. The PwC ESG Report 2020 is captioned "Growth opportunity of a century" and describes the shift as the "largest fundamental change in the investment landscape since the introduction of ETFs". PwC predicts that by 2025, between 41 and 57 per cent of European fund assets will be allocated to investment products managed in accordance with ESG criteria. At the end of 2019, this share was only around 15 per cent.
The discernible trend among ETFs listed on Xetra is clearly moving towards sustainability. Of the more than 1,900 exchange-traded index funds, more than 600 ETFs already focus on sustainability criteria such as ESG or SRI (Socially Responsible Investing). With a market share of around 30 per cent, Xetra is the leading trading venue for ETFs in Europe with the most varied offering and the highest trading volume among all European exchanges. More than 60 per cent of its order volume is international, making Xetra an attractive listing marketplace as well as an appealing trading venue for investors.
Additional Information